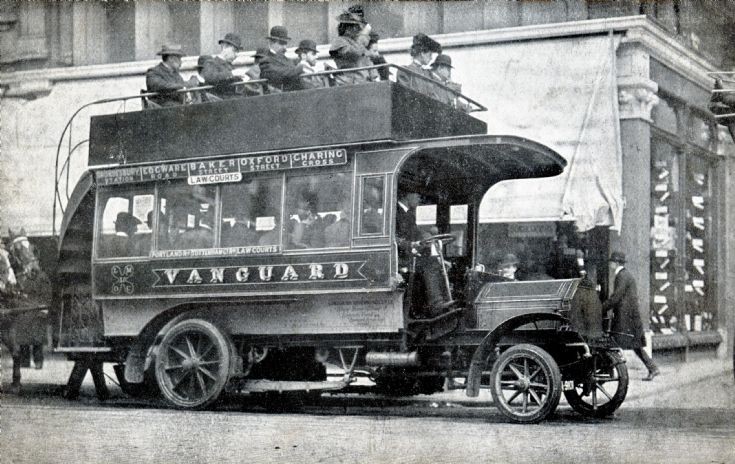 The Slaugham Archive
Vanguard omnibus accident 1906
On Thursday 12th July 1906, Handcross unexpectedly became headline news throughout the country. At around 7.30am on that day some 34 members and friends of the Orpington and St Mary Cray Fire Brigade started their journey to Brighton on their annual outing to the seaside. Many were not to return home safely.
Just before 11.00am the bus reached Handcross and started its descent of Handcross Hill. As the bus began to accelerate the driver applied the footbrake with no great effect, then tried the handbrake with similar results. As the bus careered down the hill hopelessly out of control he tried to slow it down by putting it into reverse gear. The result was predictable with a loud bang followed by cogs and various bits from the gearbox thrown onto the road in the wake of the bus.
Almost immediately the bus hit an oak tree and the upper level was sliced off thereby ejecting the occupants in all directions. The lower part of the bus continued for several more yards before leaving the road and coming to rest overhanging a steep escarpment, overlooking brambles and more trees.
Six persons from the upper deck were killed almost instantly, one died whilst being transported to the top of the hill, and three more died in Handcross over the next couple of days.
Ten people loss their lives in the carnage which at the time was the worse road traffic accident ever. Indeed, it still holds the unenviable record as being the worse traffic accident ever in Sussex.
The bus was a double-decker owned by the London Motor Omnibus Company Limited with the name "Vanguard" displayed prominently on each side. No photograph of the actual bus is available before the accident, but the bus pictured here is very similar and illustrates the fragile nature and potentially dangerous construction of the vehicle.
The bus was made by Milnes-Daimler and their museum has a renovated Vanguard bus in its collection. A short film of the bus can be seen here http://www.youtube.com/watch?v=-19lf9sRcpI. It has been restored brilliantly although the abbreviation for the word "Limited", painted on the side of the bus, should have been "Ltd", and not "Ld".
The Times newspaper carried a full report of the accident the following day, but, perhaps understandably considering the carnage and confusion of the event, there were a few errors. In particular, the conductor, Frank Ewens, did not die in the accident as reported, but survived although seriously injured.
There are about forty photographs and newspaper clippings relating to this tragic event and they will be uploaded to the website over the next couple of weeks.
Picture added on 25 August 2013 at 22:32
Comments: