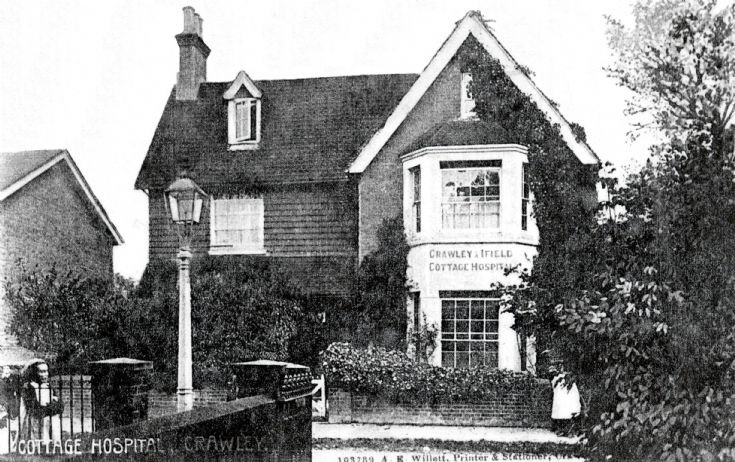 The Slaugham Archive
Vanguard accident - Crawley Cottage Hospital
Many of the injured from the Vanguard bus accident were taken to the Crawley Cottage Hospital in Post Office Road, later to be renamed Robinson Road, and now Pegler Way. Before it was established in 1896, patients had to travel to Horsham. In due course a new hospital was built and the Cottage Hospital closed in 1938.
The hospital was not prepared for such a large number of seriously injured patients admitted within the short space of a couple of hours. Many were treated on improvised beds, and some had to lie on the floor of the committee room.
However, within two days of the accident just four patients from the accident remained at the hospital; the majority having been discharged.
The message on the reverse of the postcard, which was posted two days after the accident, reads "Dear Miss Hawkins (of Shere, Surrey), Many thanks for your (letter). Have you heard of the terrible accident we have had here, it even made men cry. It was a motor bus broke and dashed into an oak tree. It was the worse accident that's ever been known. I have sent you the hospital where some of the poor men are; our house is just opposite. Hope you are well. D. Warren"
Click on Large Version for a view of the reverse of the postcard.
View Large Version
Picture added on 26 August 2013 at 00:17