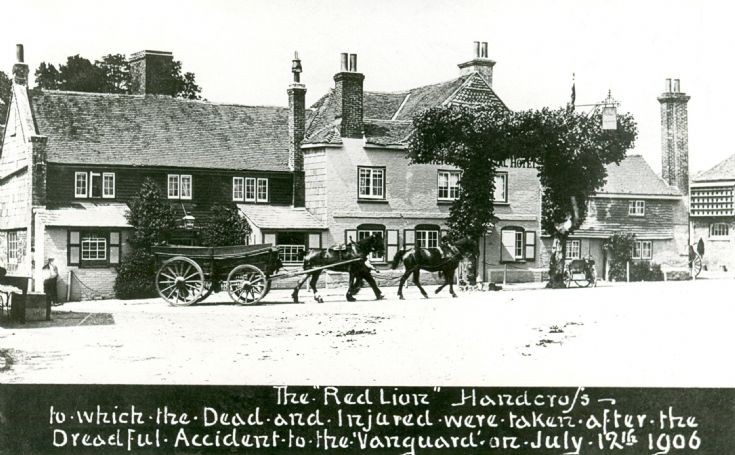 The Slaugham Archive
Vanguard accident - The Red Lion
A handsome picture of the Red Lion, Handcross, is further enhanced by the presence of a farm wagon passing by and pulled by a pair of equally handsome black draught horses.
The dead and injured were initially taken to the Red Lion following the accident. Most of the injured were then moved to hospitals at Crawley and Brighton, but two remained at the Red Lion. One of these was soon discharged but the other, the head schoolmaster, Mr William Bailey, was retained at the hotel as he was very poorly.
Of the two taken to the Sussex County Hospital in Brighton the more seriously injured was the conductor of the omnibus, Frank Ewens, who was transported by hospital car. He was unconscious and due to receive an operation involving trepanning, whereby a hole made in his skull by boring or scraping. Thankfully, he survived.
The dead were placed initially in the stables at the rear of the Red Lion, but a temporary mortuary was soon provided in the sports pavilion to which the deceased were moved. The first five coffins arrived at Orpington railway station at around midnight on the day of the accident; with the others being transported over the next day or two.
Picture added on 26 August 2013 at 00:18