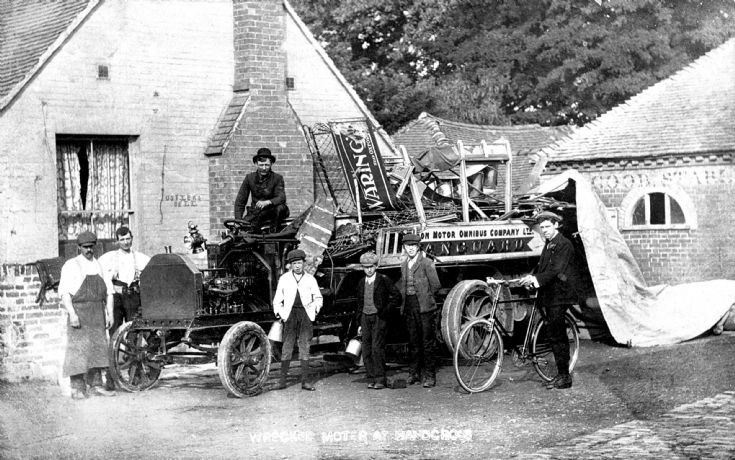 The Slaugham Archive
Vanguard accident - Bus taken to Red Lion
The Vanguard bus was taken to the Red Lion yard and stored there under a tarpaulin sheet during the inquest. Debris of all sorts was placed therein.
It lost both front wheels in the crash, and it seems possible that they were refitted at the crash site to ease the task of hauling the bus back up the hill.
The postcard was sent on 25th July 1906 from Crawley to Miss Hankin in Newhaven and the message reads, "I have sent you a card of the accident. The one with the bike is the flunkey here. Thanks so much for parcel. Maud."
I take the comment to mean that the boy on the right is the odd job boy at the Red Lion.
It is interesting to see a photograph of this side of the Red Lion as it shows the "Ostler's Bell", actually a wire going through the wall to a bell inside the building next to the ostler's cottage; the part of the hotel on the roadside nearest the High Street. As can be seen in
picture #857
, it used to be, effectively, a small cottage with accommodation on the second floor. Nowadays the ground floor bar area extends all the way to the roof, with no first floor accommodation.
View Large Version
Picture added on 26 August 2013 at 00:21
Comments: