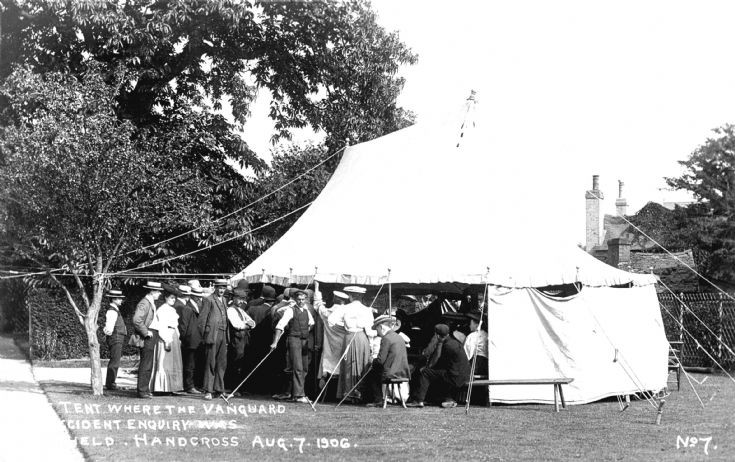 The Slaugham Archive
Vanguard accident - Inquest at Red Lion
Following the opening of the inquest on 14th July, it was resumed on 25th July, continued on 2nd August, with the jury giving their verdict on 7th August, just 26 days after the accident.
I cannot help but feel that if the event had happened nowadays it would take ten times longer to reach a verdict, and the cost would run into millions of pounds.
Interest in the event was so great that, to accommodate the large numbers who wanted to attend, two marquees were erected behind the Red Lion. As you can see from this picture, there were still people standing outside of the relatively small marquee.
On the last day of the inquest further evidence was heard and it was not until 11.10pm that the jury gave their verdict of accidental death. They found that the accident was caused by a breakage of the machinery brought on by the efforts of the driver to check the speed of the omnibus when he found that it was going to fast. They considered that the driver committed an error of judgement in allowing the omnibus to go at too high a speed. They held no one criminally responsible, but were strongly of the opinion that this type of omnibus was unsuitable for use on country roads.
The verdict was received with loud applause.
Picture added on 26 August 2013 at 00:23