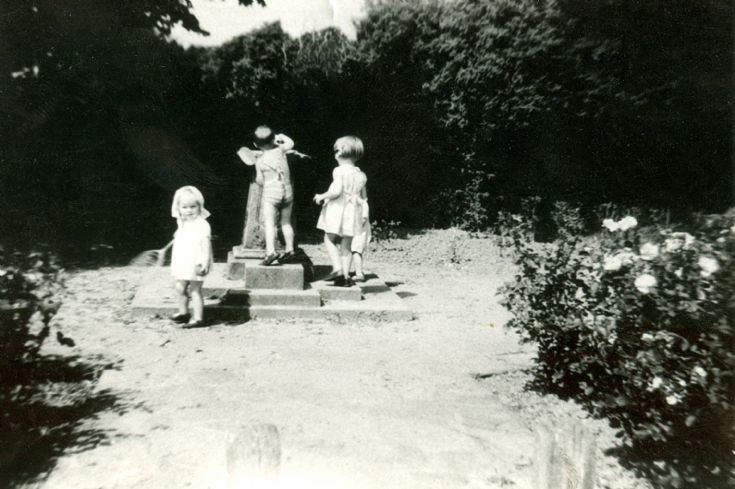 The Slaugham Archive
Children playing beside the fountain
There are no details supplied for this picture of four young children playing in the small garden surrounding the old drinking fountain in Handcross Recreation Ground.
The coronation of King George VI took place on 12th May 1937 and a Coronation Committee was formed to organise the celebrations in the parish. To commemorate the event, formal permission was obtained from the Parish Council to install a water fountain in the Recreation Ground surrounded by a paved area and a rose garden.
The top of the gate leading into the garden is just visible in the foreground.
Within a decade or so the garden was returned to grass leaving the paved area and the fountain with the water permanently turned off. However, as young lads we knew where the water tap was hidden under a stone some 10 yards from the fountain and we used to turn the water on when we needed a drink, and, being properly brought up, we remembered to turn it off when we had slaked our thirst.
The location of the fountain was against a hedgerow containing large trees which used to run west-south-west from the Balcombe Lane mini-roundabout, thereby dividing the present Recreation Ground into two separate fields. The most northerly of these was Combers Meadow which comprised six acres of meadowland and did not form part of the Recreation Ground at that time. Thus the fountain was situated broadly in the centre of today's Recreation Ground.
There were attempts to move the fountain to a different position towards the end of the last century, but it was eventually decided to remove it completely.
The Large Version shows a close up of the children. Please, can anyone name them?
View Large Version
Picture added on 15 September 2013 at 10:23
This picture is in the following groups
People