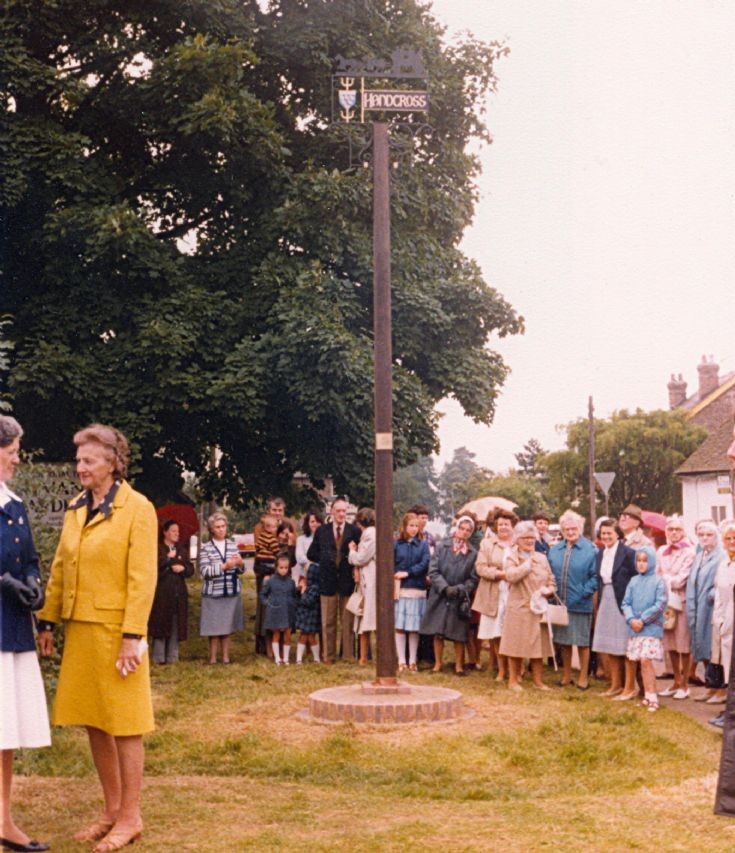 The Slaugham Archive
Handcross village sign
In 1978 the Handcross Women's Institute commemorated their Diamond Jubilee by presenting a village sign to the community.
On the extreme left is Mrs Joan Vance, chair of West Sussex Federation of Women's Institutes, chatting to Nora Ray, president of the Handcross W.I.
Others waiting for the ceremony are, from the left, Barry and Josie Ray, standing behind four members of Laurence Ray's family, Bob Dench in the blazer, Ethel Jeffery with the white headscarf, Katie Rye with beige jacket, Addie Edwards with white handbag, Joan Dick with navy blue jacket, George Hood in brown trilby, and Marjorie Dench with pink and white scarf.
The original sign was very imposing and, standing at about 20 feet tall, was a strong contender for the title of the tallest village sign in the country. Perhaps Gatwick airport authorities had demanded that it should have a red light fixed on top, as it was soon reduced by about 50% to its present height.
Observant viewers will have noticed that the sign has now been positioned so that the coach and horses are travelling away from Cow Wood.
The Large Version shows a close up of those assembled for the ceremony.
View Large Version
Picture added on 06 October 2013 at 15:21