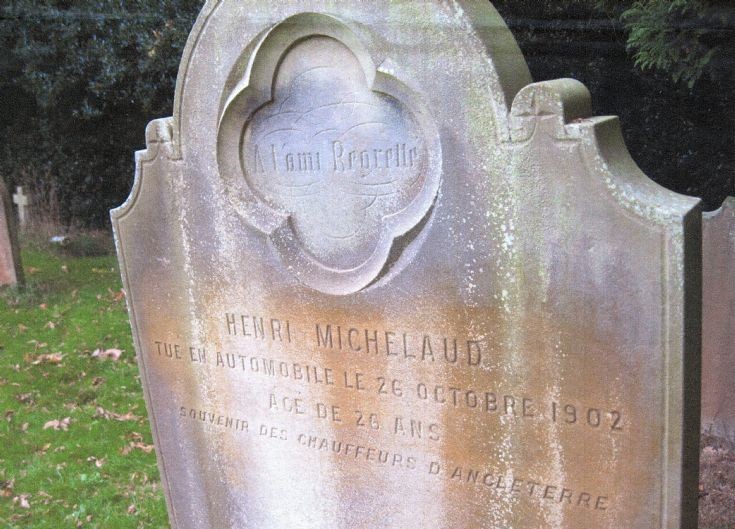 The Slaugham Archive
Gravestone in Slaugham churchyard
I have been greatly intrigued with the many pictures and accounts of the 1906 Handcross Hill runaway bus disaster. The pictures of the 3000 people turning out for the funeral at Orpington are amazing.
This has reminded me of a gravestone at St Mary's church in Slaugham of an early French driver. Perhaps he had arrived in Sussex with an imported French car. His grave is located just to the left of the path leading to the Mill Pond.
At the top of the stone is written "A l'ami regrette", "A friend is sorry".
It continues "Henri Michelaud. Tué en automobile le 26 Octobre 1902. Age de 26 ans.
Souvenir des chauffeurs d'Angleterre"
So he was killed in a motorcar, and the final phrase could be translated as "Memories of English drivers."
In 1902 a "chauffeur" in French would probably translate better as a "driver" in English. The French word was adopted by the British to describe a more specific type of employed driver usually of elegant passenger vehicles.
The newspaper article on the 1906 bus accident on
picture #866
has an account by Mr C. Godson (sic) (probably should be Gadsdon) of Crawley Motor Works in the right-hand column about halfway down. He reports "There was a motoring accident several years ago on Handcross Hill, a man being killed". It seems most likely that he was referring to the regrettably death of M. Henri Michelaud.
Picture added on 08 October 2013 at 09:37
Comments: