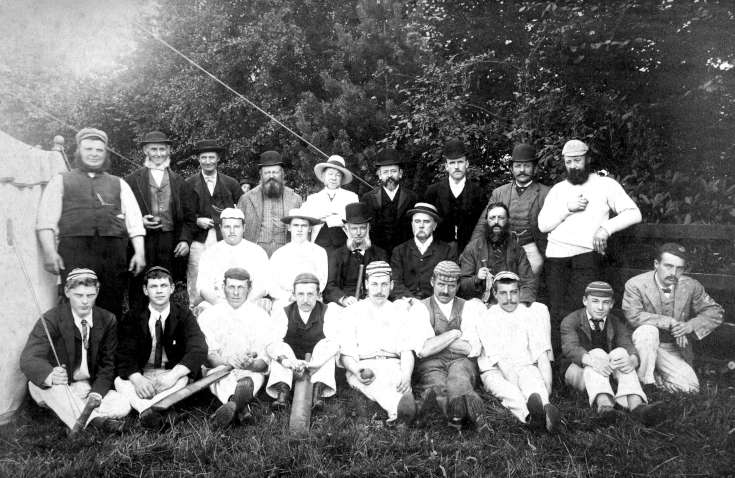 The Slaugham Archive
Handcross Cricket Club
Players and officials of Handcross cricket club are gathered for a photograph next to a marquee, perhaps indicating that a special match is being played.
I would venture a guess that the players comprise the eight sitting on the grass, plus three behind in white shirts.
From the left, back row:- William Snelling (1855-1924) (grandfather to William Snelling in the butcher's shop in the middle of the last century), Henry Scrase, William Rovery, George Wheatland (see
picture #456
), T. Hewitt (Truckers Hatch), Thomas Caffyn, Ebenezer Baker, John Mason (landlord of Red Lion), William King (landlord of Old White Horse, Slaugham).
Middle row:- David Bateup (stockman), M. Brown, Mr Tullett, Mr Doughty Brown, George Heather (Ashfold Lodge).
Front row:- C. Reader, William Langridge, Edward Prevett, Thomas Ireland, W. Allum, Herbert Reynolds, J. Grey, Alfred Brown, William Brown.
For those who enjoy Spot the Ball competitions there are two balls to find, and four bats!
For a close up, click on Large Version.
View Large Version
Picture added on 23 October 2013 at 07:57
Comments: