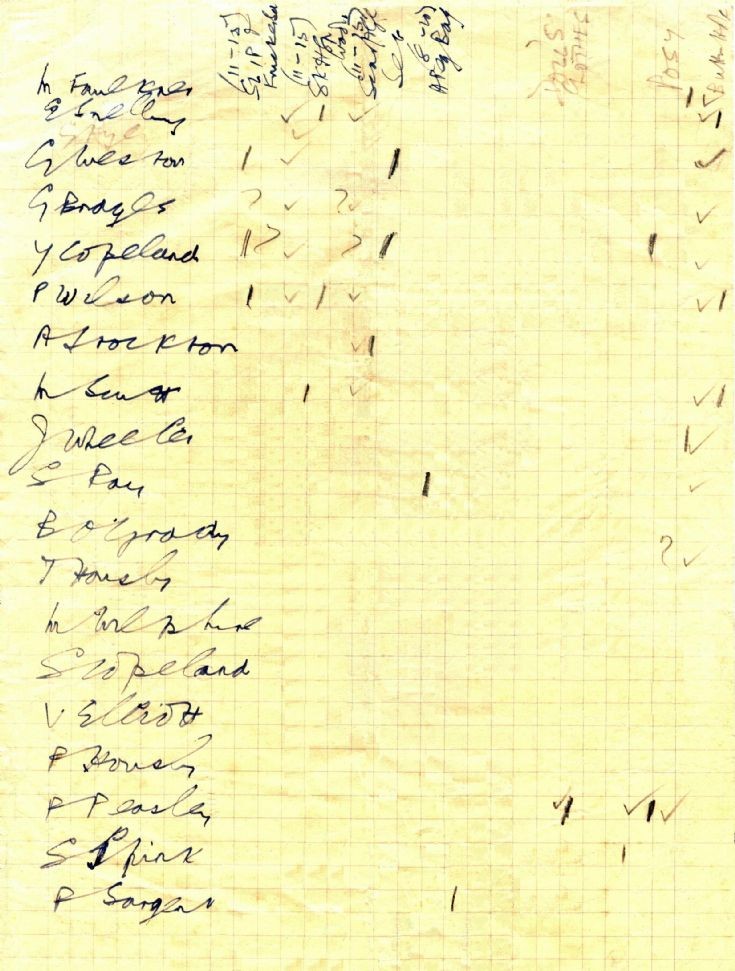 The Slaugham Archive
Handcross School handicrafts
This document was given to my brother, Laurence Ray, in about 1953 by a teacher at Handcross Primary School as a piece of scrap paper on which he had to practise his long division sums. He has kept it in his possession for about 60 years and I have now cleaned it up and can offer it for public viewing.
It lists some of the older girls at the school and seems to be a record of what handicraft items they had chosen to make, probably for the annual Flower Show.
The indistinct writing across the top gives categories for the 11 to 15 year olds:- Slip and knickers, SKHS? Wool, Scarf and Gloves?.
For the 8 to 10 year olds, the choice is a Peg Bag, Doll's Clothes, Posy, Button Holes.
The girls listed:- Marguerite Faulkner, Eileen Snelling, Sheila Rye (in faint pencil), Gillian Weston, Gillian Bridges (Pease Pottage), Yvonne Copeland, Pauline Wilson (Pease Pottage), Anne Stockton, Monica Scutt, Jean Wheeler, Sally Ray, Barbara O'Grady, Josephine Housby, Maureen Wiltshire (Pease Pottage), Suzanne Copeland, Valerie Elliott, Penelope Housby, Pamela Peasley, Susan Spink, Penelope Sargent.
Picture added on 12 November 2013 at 09:29
Comments: