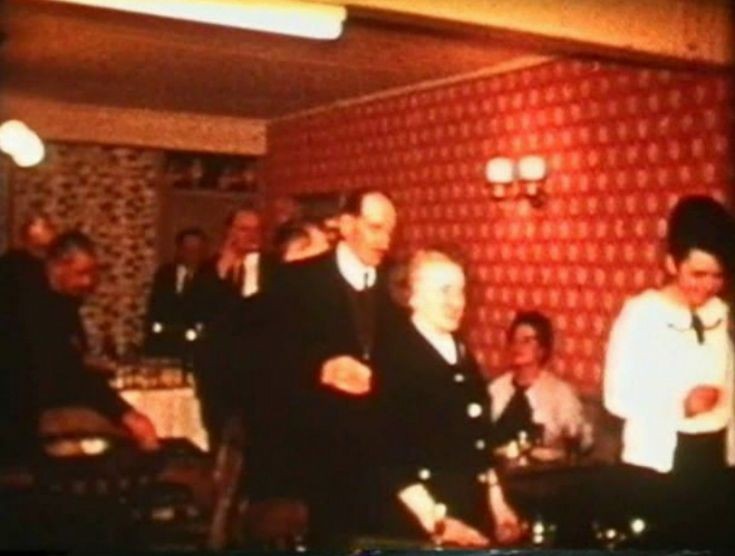 The Slaugham Archive
Wedding anniversary party in the Chequers Slaugham
In late 1965 my parents, Roger and Nora Ray, celebrated their silver wedding anniversary and my maternal grandparents, Jim and May Longhurst, their golden wedding anniversary.
I would not normally upload film of a family party to the website, but many friends from nearby villages attended and I have listed them below.
The party was held at the Chequers Inn at Slaugham, in what was known as the "Club Room", which was suitably decorated with period wallpaper. This function room was the room closest to the church, but is now part of the general bar area.
The first piece of music was chosen as Charlie Kunz was my parents' favourite pianist, and the second piece is appropriate as all four persons celebrating were born in the Slaugham Parish.
I have not tried to edit or crop the video, particularly the amusing "coming and goings" during the cutting of the cakes.
Those appearing include:- Jim Longhurst (moustache), May Longhurst (white brooch), Roger Ray (smoking cigar), Nora Ray (shiny brooch), Josie Ray (white cardigan and beehive), Barry Ray (slim tie and pint of beer), Laurence Ray (red poppy), Lil Snelling (white cardigan, sitting), Betty Sargent (sitting on Josie's right, and later, next to John Robins), Sid Sargent (cigarette, in the background), John Robins (white hair in foreground, Staplefield cricketer), Elsie Robins (next to John), Ethel Jeffrey (shiny red dress, from Clare Cottage), Frank Marchant (landlord of Chequers, in doorway), Nelson Cook (against far wall), Rex Ray (taking a seat), Frank Jeffrey (opposite Rex, churchyard groundsman), George (with pipe) and Nora "Mac" Garner, George Prevett (brown suit) with wife, Barbara, speaking to Joe Ray, (both Staplefield cricketers).
Click on View Video for the film.
View Video
Picture added on 13 November 2013 at 18:34
Comments: