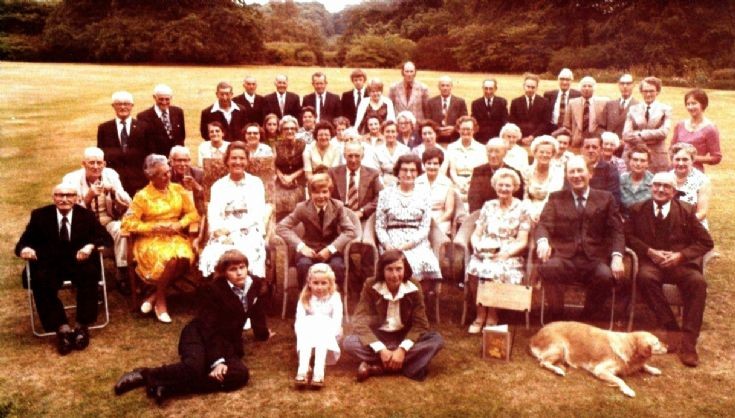 The Slaugham Archive
Warren family at the Hyde 50 years
In 1926 newly-married Col. J. Raymond Warren and his wife, Eveline, moved to the Hyde Estate and within a few years their children, Michael and Mary, had been born.
Some fifty years later, Colonel Warren had died but, to celebrate the golden anniversary of his family at the Hyde, Mrs Warren decided to celebrate the event by inviting past and present employees of the estate and their families to attend a party at the house.
A copy of the invitation and a newspaper article of the event can be found on
picture #947
.
Click on Large Version to view a numbered copy of the photograph.
Those present are listed below, but there are a few queries. Please can anyone fill in the gaps, or make any corrections?
1 Arthur Farrow, 2 Ernest Tomsett (Gardener - rtd), 3 Bill Vowles (Shepherd), 4 Cyril Powell (Forester), 5 Bert Richards (Gardener), 6 Harry Bryant (Maintenance), 7 David Bryant, 8 Mrs Mary Cooper (née Bryant), 9 David Cooper, 10 Cyril Worsfold (Head gardener after William Doggett), 11 Jim Feist (Forester), 12 Sid Biggs, 13 Arthur "Joby" Johnson, 14 Mr Oldfield (House duties), 15 George Cooper (Gardener), 16 Michael Thompson (Land agent), 17 Mrs Penny Thompson, 18 Miss Trigg, 19 Mrs Jane Bryant, 20 Mrs Cox (Harry Bryant's mother-in-law), 21 Mrs Jenny Scarles, 22 Mrs Feist, 23 Mrs Ada Bailey, 24 Mrs Eileen Vowles, 25 Mrs Richards, 26 Mrs Worsfold, 27 Mrs Ruby Tomsett, 28 Mrs Vi Johnson, 29 Mrs Oldfield (House duties), 30 Mrs Rose Cooper, 31 Mrs Edith Biggs, 32 Mrs Diana Fenn (lost her husband, Sydney, in WWII, chauffeur), 33 Miss Grace Wyles, 34 David Rennie (Land agent - rtd), 35 Bill Scott (Shepherd), 36 Mrs Margaret Scott, 37 Aubrey Buss (Maintenance), 38 Mrs Buss, 39 Fred Jenkins (Forester), 40 Mrs Frances Jenkins, 41 Mrs Gladys Chatfield (née Rapley), 42 Jim Bailey, 43 Mrs Rennie, 44 Mrs Gillian Warren (née Kleinwort) (Michael's wife), 45 Charles Warren, 46 Mrs Mary Habershon (née Warren), 47 Mrs Eveline Warren, 48 Michael Warren, 49 Arthur Chamberlain (Gardener - rtd), 50 Bill Rapley (Head gamekeeper – rtd), 51 Master Powell, 52 Pamela Vowles, 53 Paul Vowles, 54 Venus.
The photograph and the names above were kindly supplied by Mary Habershon (née Warren), Daphne Verlander (née Rapley), Sid and Jim Biggs, Jane Bryant, Peter and David Cooper, and Mrs Effie Wellington (née Tomsett).
View Large Version
Picture added on 25 November 2013 at 20:01
This picture is in the following groups
Hyde
Comments: