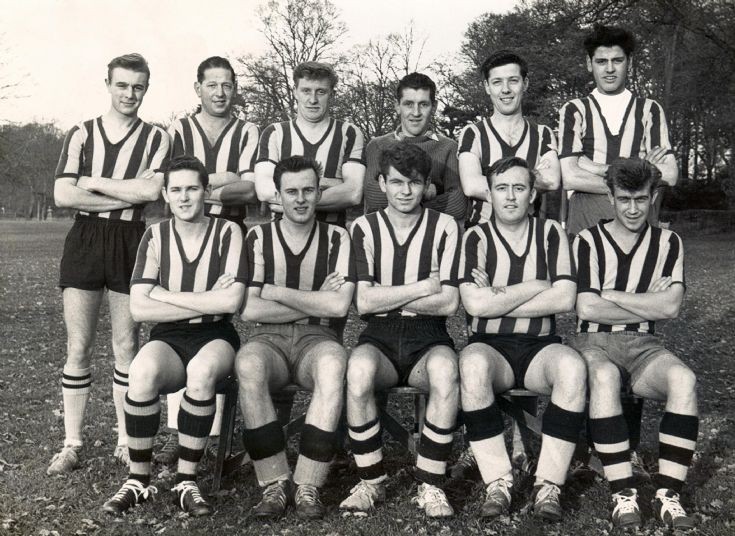 The Slaugham Archive
Handcross football team 1962
Handcross football team had folded after the 1957-58 season, and us lads of the village were approached to get together and hold an inaugural meeting in the Social Club with Bill McConnell as chairman.
A couple of years after the club was reformed, Roger Ray took this photograph and had it published in the Mid-Sussex Times.
From the left, with their abode if not Handcross:-
Back row: David Knape, Percy Maynard, Frank Weller (Pease Pottage), Colin Botting, Doug Miles (Crawley), Roger Davidson.
Front row: Ron Cosens, Chris Johnson, Barry Ray, Edward Sayers (Cuckfield), Don Robinson (Faygate).
Another person who deserves to be mentioned is Charlie Atkins who ran the line and attended to any injuries on the pitch. It was wondrous to see how quickly the badly-injured players would recover once they espied Charlie running towards them holding a bucket ready to plunge a sponge of cold water down the front of their shorts!
I was pleased to see the old drinking fountain next to David's right elbow.
Click on Open Document to view various newspaper reports of the team of that era. Click on + or – to make them readable.
Many thanks to Ron Cosens for having the foresight to collect them and making them available now.
View Large Version
Open Document
Picture added on 08 December 2013 at 09:11
This picture is in the following groups
Football
Comments: