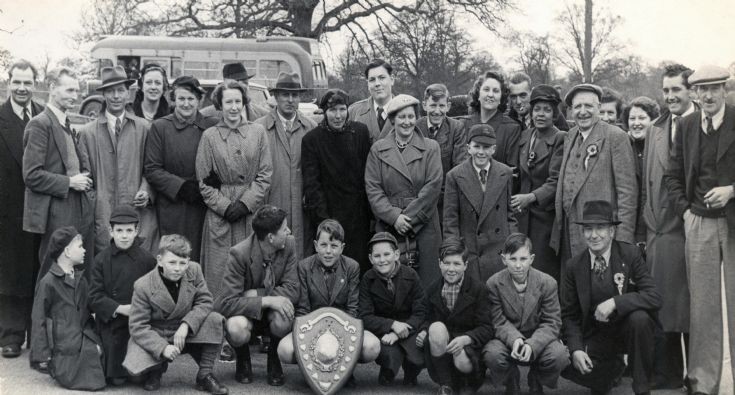 The Slaugham Archive
British and World Marbles Championships
The World and British Marbles Championships are held at the Greyhound pub, Tinsley Green every Good Friday and, before the days of mass motoring, it was usual for each village to supply a coach to transport their team and supporters to and from the event.
This is the group from Handcross, but three of the men's six-man team are not included in the photograph. Could they be in the pub?
The men's team was named the Handcross Bulldogs, and, competing for the junior championship, was the 1st Slaugham Scouts team. The scouts team won the Dawn White Shield for six consecutive years from 1952 to 1957 under the coaching of the 1954 world champion, Arthur Chamberlain.
The members of the Bulldogs team included in the photograph are Ted Gasson, Jim Longhurst, and Arthur Chamberlain.
The scout team comprised Tom Chamberlain, David Mitchell, Ron Cosens, and Barry Ray.
From left to right:-
Standing:- 1 Bill Powell (coach driver for "Bunny" Carter from Plummers Plain), 2 Harry Langridge (team member of Tinsley Tigers and four-times world champion), 3 Arthur "Mickey" Mitchell, 4 Mrs Steadman, 5 Mrs Gladys Mitchell, 6 Barbara Mitchell, 7 Len Steadman, 8 Jack Streeter, 9 Mrs Dorothy Streeter, 10 Brian Message, 11 Lily Doggett (marr. Len Snelling 1957), 12 Jim Brown, 13 Ronnie Steadman, 14 Pearl Message, 15 ??????, 16 Mrs Gasson, 17 Ted Gasson, 18 Beryl Chamberlain, 19 Shirley Wheatland, 20 Charles Glenville, 21 Jim Longhurst.
Squatting:- 22 Andrew Wickham, 23 ??????, 24 Rodney Jones, 25 David Mitchell, 26 Tom Chamberlain, 27 Ron Cosens, 28 Ronald "Chubber" Newman, 29 Alan Streeter, 30 Arthur Chamberlain.
Click on large Version for a numbered photograph.
Click on Open Document for a similar view, but showing a more jovial bunch.
View Large Version
Open Document
Picture added on 13 December 2013 at 16:26
This picture is in the following groups
Marbles
Comments: