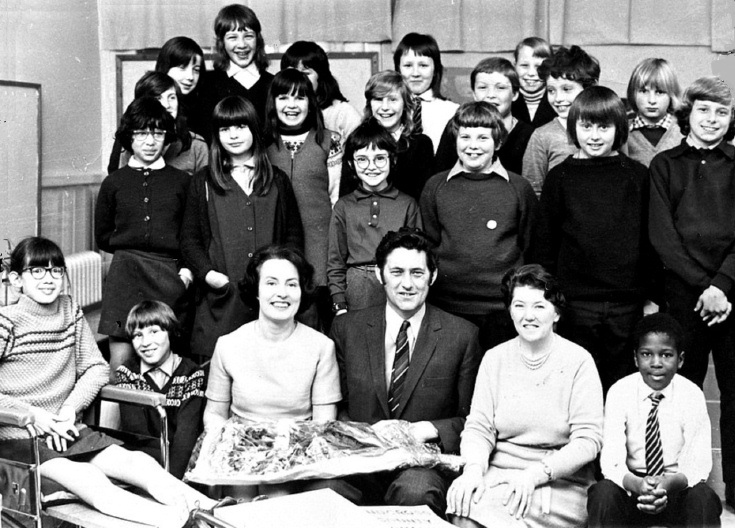 The Slaugham Archive
Mr Gooders leaves Handcross School
Mr Gooders was appointed headmaster in 1969 to replace Mr Hawksworth and, by all accounts, was very popular with the pupils and fellow colleagues.
After a comparatively short stay at Handcross he left in 1973 to take up an appointment at a larger school.
At the end of his stewardship he and his wife were presented with a large bouquet and the photograph records the event with many of the older pupils in attendance.
Click on Large Version to view a numbered photograph.
1. Fiona Gasson, 2. ??????, 3. Fiona Maughan, 4. Claire Burtenshaw, 5. Rachel Squires, 6. Tessa Payne, 7. Janice Tayman, 8. Vincent Cheeseman, 9. Karen Hagley, 10. Catherine Shopland, 11. ??????, 12. Paul Stone, 13. Amanda Whitlock, 14. Mence Wilkinson, 15. ??????, 16. Louise Whitlock, 17. Paul Turville, 18. Pauline Cole, 19. John Botting, 20. Mrs Gooding, 21. Mr Barry Gooding, 22. Miss Margaret Morgan, 23. Leslie Smalling.
Many thanks are due to Teresa and Catherine Shopland for supplying the above names.
Please can anyone supply more names?
The photograph quality is not good; please can anyone supply a better copy.
View Large Version
Picture added on 16 December 2013 at 18:56
Comments: