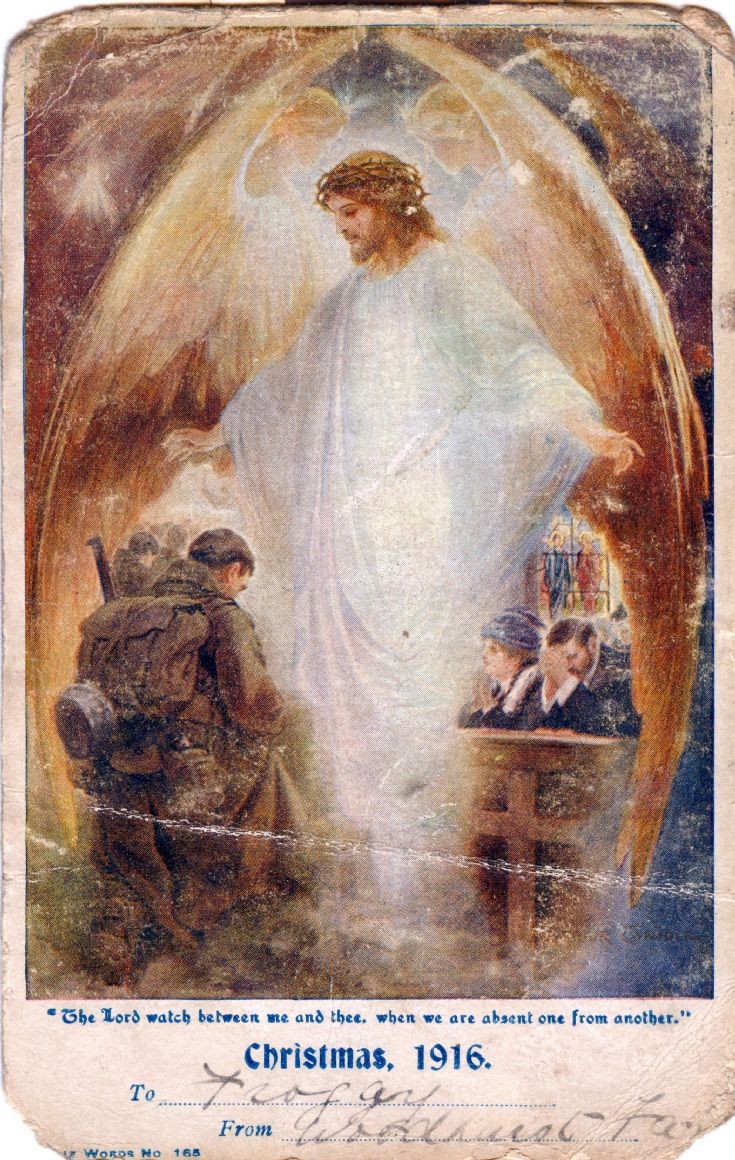 The Slaugham Archive
Postcard sent during the Great War
This card was posted to my great-uncle Alfred "Froggy" Gates of Tilgate Forest Row while he was serving with the 2nd Royal Sussex Regiment in France. He embarked for the Western Front on 31st May 1916 and joined his battalion just before the Battle of the Somme (1st July to 13th November 1916).
The battalion saw action at Ypres in 1917 and Froggy was wounded by gas on 9th April 1918.
The card was sent from "Woodhurst Farm", the tenant of which at that time was William Dudley, formerly of Tilgate Forest Row and a close friend of Froggy. The farm is located opposite Tilgate Forest Row on the west side of the A23. His brother, Charlie Dudley, was the blacksmith plying his trade in Tilgate Forest Row at that time.
The card depicts Christ in the guise of an angel proffering a safe passage through the uncertain years that lay ahead. I am pleased to say that the angel did his work and Froggy survived the war, passing away in 1971, aged 81.
The card is very tatty with missing corners and it is clear that Froggy carried the card in his kitbag as a treasured possession for the rest of the war. I normally spend some time in repairing damage and enhancing the picture, but this card does not warrant any special attention. It has survived for almost 100 years, and it would be unjust to cover up its battle scars.
Click on Large Version to view the reverse showing Froggy's address as the British Expeditionary Force in France. Someone has removed the stamp for their collection; I hope it was not me.
View Large Version
Picture added on 06 January 2014 at 20:16
This picture is in the following groups
Military